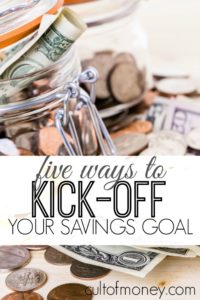 I'm a firm believer that success leads to more success. That's why momentum is so important.
If you can kick off a goal in a big way then you'll be more motivated to actually see that goal through. Working on that goal day in and day out will be fun rather than dreadful.
If you've just started a new financial goal, whether that being paying off debt, saving money, or investing, the best thing you can do to get started is find a way to immediately put a little dent in it.
Here are five ways to jumpstart your savings goals.
Sell Some Old Stuff
The easiest and, perhaps, most profitable way to add some fuel to the fire is to sell things that you no longer want or need.
After spending the last week going through my house top to bottom in preparation for a move I'm one hundred percent convinced that everyone has stuff they can part with to make extra money.
Start by going through your home and looking for things to sell. Once you have a pile start listing all the small items on Facebook Yard Sales and the bigger ticket items on Craigslist.
Take every dollar that you earn and put them toward your goal.
Work Extra Hours
A lot of us have the ability to work extra hours but without a big goal to keep us motivated we just don't.
If you're in a position where overtime is available to you then you need to start picking up at least a couple extra hours each week. Take the overtime from your check and put it in savings. Better yet, have it direct deposited straight into your bank account.
Start a Side Business
Don't have extra hours available to you at work? No problem. There are really a thousand and one ways to make extra money on the side.
You could do the normal jobs like babysitting, cleaning houses, or mowing lawns or you can start a different type of side business. (See ways to make an extra $500 per month.)
I know many, many people who are bringing in full time incomes from their once side businesses. If you really try you CAN make some decent money on the side.
Cut Your Expenses
I firmly believe that earning extra money is the best way to accelerate your goals but I also believe that this is something that not everyone will give a chance. In that case, you need to cut your expenses. It's your only other option.
Look through your budget, downgrade your plans (TV & Phone,) cancel subscriptions that never get used, switch carriers, and completely cut off certain services. Dig deep in that budget to make cuts.
Whatever money you've cut from your budget needs to go toward your goal.
Do a 30 Day No Spend Challenge
Have you ever heard of a no spend challenge? If not, it's a period where you go without buying anything but the absolute essentials.
Outside of just enough food to get by, your regular bills, and commute costs you buy nothing. How much money could you save by doing one of these challenges for a month?
Build Momentum
To really motivate yourself to stick to a goal you need to build momentum. Start off strong and you'll find the motivation and willpower to see the goal through.
Be creative. Do what you need to do make a dent in your financial goal. Once you build that momentum you'll soon see results beyond what you were expecting!
Alexa Mason is a freelance writer and wanna be internet entrepreneur. She is also a newly single mom to two beautiful little girls. She chronicles her journey as a single mom trying to make it big at www.singlemomsincome.com.